BBR Square Damper stay cable damping system
Due to its simple design, high efficiency, easy adjustability and low maintenance requirements, the BBR® Square Damper is simply the most superior damping device available on the international market. The BBR Square Damper incorporates a new generation of materials, together with a ventilation/insulation system to enhance the durability of the components and to extend maintenance intervals.
Key features
Damper not activated at low/non-critical vibration amplitudes
Free longitudinal and rotational movement, important for long cables where temperature changes and deflections are critical
Easy inspection and extremely low maintenance
Easy adjustability at any time to match working amplitudes
Efficiency independent of acceleration/mode of vibration
New generation of friction materials used ensuring high endurance and constant performance
Extra long cable testing demonstrated that the Maximum Passive Supplemental Damping for 1st to 4th mode vibrations was always achieved, even in tests on shallow cables with equivalent lengths up to 500m
Available to fit on any size of the BBR HiAm CONA stay cable range
BBR HiAm CONA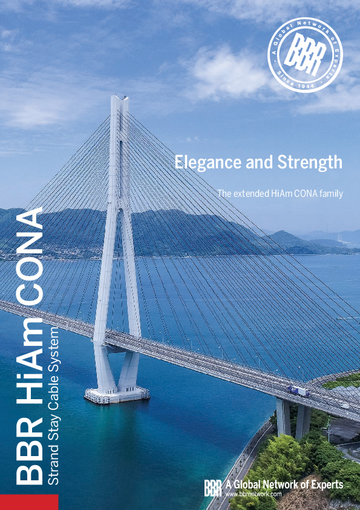 The BBR Stay Cable Range
See our Downloads page

New generation of materials
The development of the BBR Square Damper has included, among others, several multi-million cycles of full damper oscillation wear tests to establish the actual endurance of the friction components. During the tests the temperature was deliberately kept constantly high (T > 300°C) to promote wear and damage. Such tests proved that only a new generation of friction materials, especially designed for the severity of this application, can be used.